R. Eric Smith
Eric is a graphic designer who lives in Raleigh, NC. He is a lifetime fan of comic books. Despite this, he still learned to read books without pictures. His favorite authors include Terry Pratchett, Neil Gaiman, Dan Simmons, George R. R. Martin, Steven Erikson, Ian Esslemont, Isaac Asimov, Elmore Leonard, Donald Westlake, and whoever signs his check.

His interest in writing began when Scott and Joel told him of their participation in NaNoWriMo. He managed to complete a couple of Doctor Who fanfictions and a story about a giant who wanders through myths of other countries to look for a place to raise cattle. With Scott and Joel, Eric developed a comic book series based on characters from their drabbles, Matt and Charlie of Wilder Investigations. The second issue will come out any year now.
Coming Soon!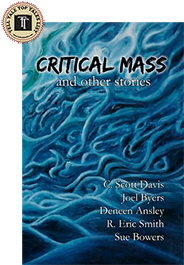 The Angel's Seed
published in Critical Mass and other stories
Coming soon in paperback and various eBook formats!
Published Works
Paradox Lost --- Tales from Hell
7 stories and 17 illustrations
published in Shared Words: Volume One

Wilder Investigations #1: Mirror, Mirror
written by Joel Byers, C. Scott Davis and R. Eric Smith
illustrated by R. Eric Smith and L. Whyte
Writing Challenges
Novels
Eurytion (NaNoWriMo 2008)
Short Stories
Through the Eyes
Fan Fiction
The Realtors of Ragnarok (Doctor Who - 10th Doctor)
The Breeding Pits of Krakatoa (Doctor Who - 11th Doctor)
Prophet Margins

(Deep Space Nine)
Links
R. Eric Smith's Portfolio


Return to sharedwords.net
---
Contents copyright © R. Eric Smith
Web site copyright ©2007-2017 Shared Words
Site Design and Programming by Serious Cybernetics, with JavaScript libraries by MarcaSoft and Stuart Langridge • Hosted by DreamHost