This site contains information and excerpts from completed and ongoing novels, short stories, and other writing projects.
Due to potential issues with first-publication rights, entire works are not posted here.
Some unpublishable material, such as fan-fiction, may be presented here in their entirety.
Coming Soon!
Critical Mass and other stories
with stories by C. Scott Davis, Joel Byers, Deneen Ansley, R. Eric Smith, and Sue Bowers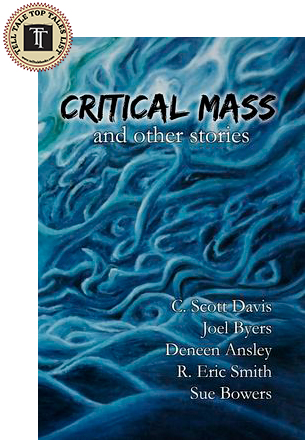 This is a book about monsters.
Monsters who love us. Monsters who hate us. The monsters we nurture, and the monsters we become. They may be imperceptibly small or unimaginably vast, completely devoid of thought or filled with incomprehensible rage and hunger, but regardless of scale or motivation, they cannot be ignored.
On these pages, you will meet an artist who plays with the geometry of madness, a child who refuses to accept the rules of loss, and a mind unravelled by the forgotten touch of a cold dark world. From the illusionary safety of childhood, to the intersection of beauty and horror, corporeal prisons, and serial suicides, these stories expose the lingering echoes of forsaken lives, disturbing visions of cruel futures, and ultimately ask the question, "What do you do when faced with the unthinkable?"
Coming soon in paperback and various eBook formats!
Published Works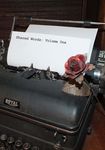 Shared Words: Volume One is now available!
Other Published Works from Shared Words Authors

Writing Challenges
Authors
Maria D. Alvarez
Deneen Ansley
Michael Bernier
Sue Bowers
Joel Byers
Laura Beth Caldwell
Julie Carriker
Mark Davis
C. Scott Davis
Kristy Evans
Tanya Gadd
Lelisia Hall
Kerry D. King
Kirsten Ireland
Charlene Marolf
Allison McVann
R. Eric Smith
Collaborations
Joel Byers and C. Scott Davis (Novels)
Julie Carriker and Lelisia Hall (Novels)
Kirsten Ireland and C. Scott Davis

(Music)
Writing Tools and Blogs
Tools and Resources
Shared Words Blogs
Latest News

NaNoWriMo is 30-day Novel Writing Love Insanity.

---
All works copyright © their respective authors
Web site copyright ©2007-2017 Shared Words
NaNoWriMo Colourbar created by sarcastic_doors
Site Design and Programming by Serious Cybernetics, with JavaScript libraries by MarcaSoft and Stuart Langridge • Hosted by DreamHost