C. Scott Davis
C. Scott Davis is a writer, game designer, computer programmer, humorist (of dubious quality), musician (even more dubious) and generally interested in almost everything. He is also an olympic-class waffler and has two silver medals in procrastination. [ ... Read full bio ]
Coming Soon!
The Sky-Rock Thief
published in Cracks in the Tapestry
Cracks in the Tapestry will be released in paperback and Kindle on 21 October, 2018.
The Kindle edition is available for pre-order now.
Now Available!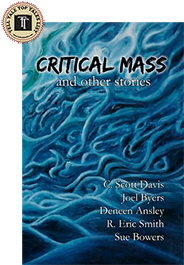 Critical Mass (novel); Come into the Light, My Darlings; and Killing Me Softly
published in Critical Mass and other stories
Also available from:
Purchase Critical Mass and other stories from Amazon (Paperback/Kindle)


Purchase Critical Mass and other stories from Barnes & Noble (Nook)


Purchase Critical Mass and other stories from iTunes (iBook)

If you've read it, please consider leaving a review. Amazon and Good Reads reviews are preferred, but reviews anywhere are appreciated. Thanks!
Other Published Works
C.A.R.E.T.A.K.E.R.
published in the November 2016 issue of 404 Ink

Here Inside I'm Like Metal, Aren't You?
published in the 2015 issue of The Nassau Review

Anima Divinitas and The Suffering Sky-Rockets
published in Lynsey Moon's Fever Dreams

50 stories and 3 illustrations
published in Shared Words: Volume One
The Wax Butterfly
published in the 2013 issue of The Nassau Review

The Last Campfire
published in the anthology A Convergence of Worlds


Wilder Investigations #1: Mirror, Mirror
written by Joel Byers, C. Scott Davis and R. Eric Smith
illustrated by R. Eric Smith and L. Whyte

Leave the Girls Alone (Laisse Tomber les Filles)


by Kirsten Ireland and C. Scott Davis
English lyrics by C. Scott Davis
music and original French lyrics by Serge Gainsbourg
A Life Disordered - NaNoWriMo 2007
Uncertain Terms - NaNoWriMo 2006
Critical Mass - NaNoWriMo 2005
Suffer the Children - NaNoWriMo 2004
Umbra Mortis - NaNoWriMo 2003
Earth's Last Light - NaNoWriMo 2008


The Reluctant Corpse - collaborative novel written with Joel Byers
Serpent's Tooth - a sequel (of sorts) to Suffer the Children
Relative Dimensions in Cyber Space - [eBook] [Kindle]
Darkness on the Edge of Town - [eBook] [Kindle]
State of Mind - [eBook] [Kindle]
Other Doctor Who stories
Other stories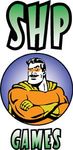 SHP Games
Blogs
Pirkles & Pogos
"Humour in the Key of WTF..."
Bound by Guilt

Return to sharedwords.net
---
Contents copyright © C. Scott Davis
Web site copyright ©2007-2017 Shared Words
Site Design and Programming by Serious Cybernetics, with JavaScript libraries by MarcaSoft and Stuart Langridge • Hosted by DreamHost