Joel Byers
Joel Byers has been described as the laziest, non-published talent in the industry. He has disagreed continuously, stating that he was actually dead all those years. Now that he has regained his corporeal form, he expects to fail at Nanowrimo for the next three years before succeeding again.
Coming Soon!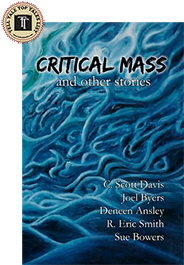 Infernal Ratio
published in Critical Mass and other stories
Coming soon in paperback and various eBook formats!
Blog
This Date in Twisted-History
Facts presented here are guaranteed to be 100% true and accurate… like everything else on the Internet. Bonjour!
Published Works
50 stories and 1 illustration
published in Shared Words: Volume One
I Breathe
published in Lynsey Moon's Fever Dreams


Wilder Investigations #1: Mirror, Mirror
written by Joel Byers, C. Scott Davis and R. Eric Smith
illustrated by R. Eric Smith and L. Whyte
Bad Karma
A twisted set building game for 2-4 players
created by Joel Byers and C. Scott Davis
Current Projects
The Esoteric Excursion - NaNoWriMo 2008

Writing Challenges
Completed Novels
Where There's Smoke - NaNoWriMo 2006
Unfinished/Planned Novels
Blue Mountain
Dust
Let Sleeping Dogs - NaNoWriMo 2007
Collaborations
The Reluctant Corpse - collaborative novel written with C. Scott Davis

Return to sharedwords.net
---
Contents copyright © Joel Byers
Web site copyright ©2007-2017 Shared Words
Site Design and Programming by Serious Cybernetics, with JavaScript libraries by MarcaSoft and Stuart Langridge • Hosted by DreamHost